Top tablets for your family, for work or play.
We test, set up, and experiment with a broad range of tablets of various models and brands every day in our office. It's what we do – and it's essential work that enables us to create the best products for our customers.
Importantly, aside from being hardworking magikbee employees, we are parents – and we too like to play! So we've made a list of the top tablets for the whole family using the knowledge we have acquired working and playing with these devices over the years.
1.  iPad 9.7 (2018)
This affordable model is the best iPad for most of us and is now compatible with the Apple Pencil. From £309.85 on Amazon UK and $339 on Amazon US
OS:

iOS12                                                                                                                             

Screen size:

9.7-inch

Resolution:

Quad-core 2.34 GHz (2x Hurricane + 2x Zephyr)                                

CPU:

A10X Fusion

RAM:

2GB                                                                                                                              

Storage:

32/128 GB

microSD slot:

No                                                                                                                

Battery:

Non-removable Li-Ion battery (32.4 Wh

Rear camera:

8MP                                                                                                             

Front camera:

1.2MP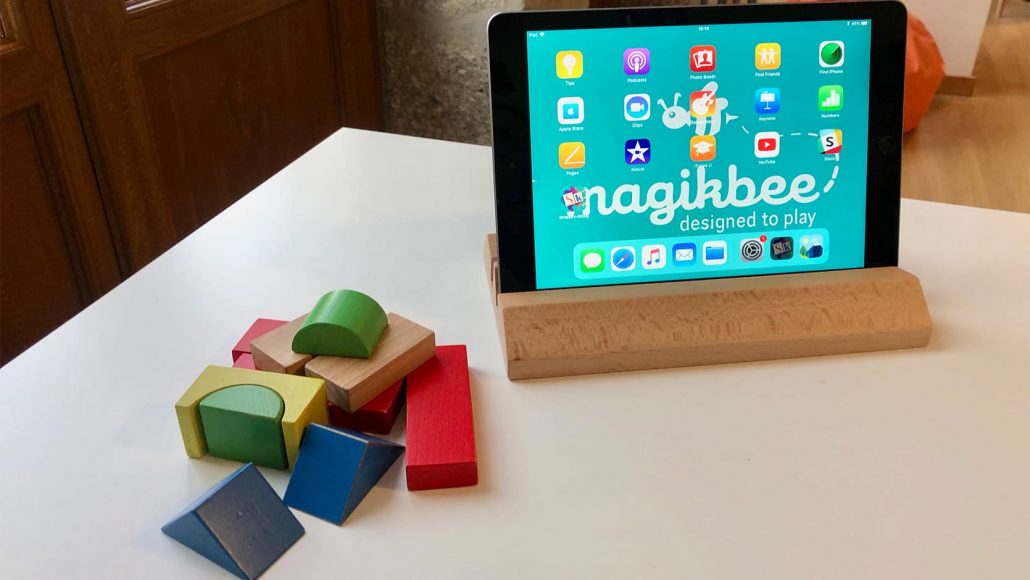 Released earlier this year, the iPad 9.7 is focused on education and is offered at a discount to schools. Even without the markdown, this is still the cheapest iPad of its type that Apple has ever released, making it a perfect family option.
Boasting powerful processors and hefty storage (minimum 64GB), the device runs fast and will store a large number of apps, music, and photos without hassle. The screen is large and beautiful – ideal for keeping the kids entertained on long journeys. The size also makes this iPad perfect for streaming apps, games, and interactive toys – such as our very own Magik Play.
2.   iPad Mini 4 – Refurbished
We love the smaller iPad which is available from Apple's refurbishing service at a good price. From £339 at Apple UK and $279 at Apple US
OS:

iOS12

Screen size:

9.7-inch

Resolution: 1536 x 2048
CPU: Dual-core 1.5 GHz Typhoon
RAM:

2GB

Storage:

16/32/64/128 GB

microSD slot:

No

Battery:

Non-removable Li-Ion 5124 mAh battery

Rear camera:

8MP

Front camera:

1.2MP



The iPad Mini is the middle ground for those of us that don't need a huge screen but still want an upgrade on the smartphone viewing experience. While it's a few years old (released originally in 2015), the Mini 4 is packed full of features, boasts a beautiful display and is easily fast enough for pretty much any day-to-day task.
The smaller size is ideal for those that move around a lot, slotting neatly into a handbag or backpack. The device has a premium feel to it and will tolerate a reasonable level of rough-housing from careless big hands or adventurous little ones.
While still not the cheapest on the market, devices refurbished by Apple are practically good as new and come with a one year warranty, making them the perfect option for those who want the iPad but don't want to fork out the full retail price. We are big fans of these.
3. Samsung Galaxy Tab S3
In our opinion, the best Android tablet at a spectacular price – from £375.00 at Amazon UK and $442.99 on Amazon US
OS:

Android Oreo

creen size:

9.7-inch

Resolution:

1536 x 2048

CPU:

Snapdragon 820

RAM:

4GB

Storage:

32GB

microSD slot:

Yes, up to 400GB

Battery:

6,000mAh

Rear camera:

13MP

Front camera:

5MP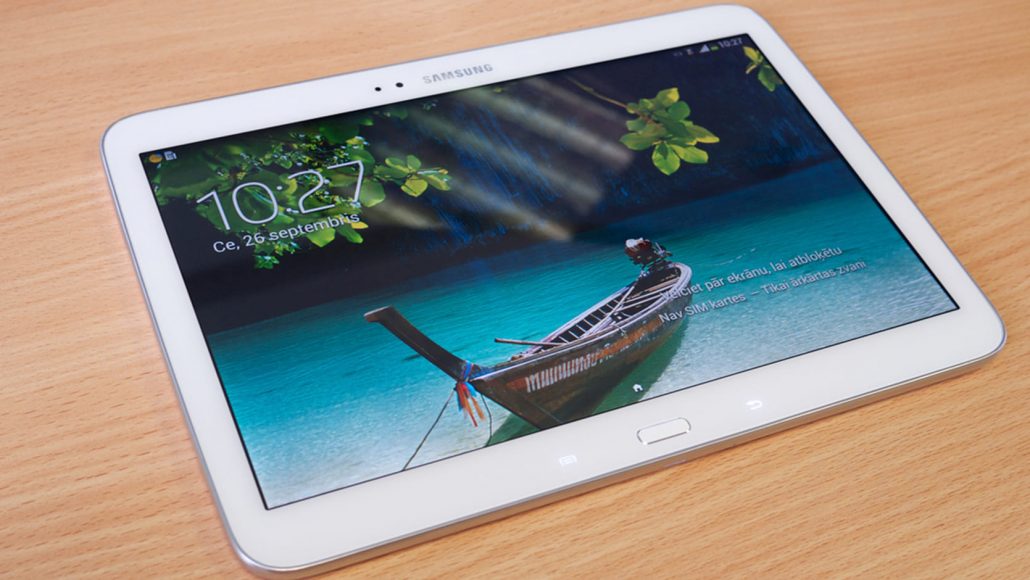 This Samsung model is suitable both for regular consumers searching for the basics and for professionals seeking a tablet to use for work.
For those in the first category, the combination of stunning sound quality and an excellent screen make this an especially attractive option for those that like to spend a lot of time in front of the screen – watching parenting documentaries, perhaps!
Meanwhile, the Tab S3 comes with an S Pen – perfect for people looking for a practical and productive work tool. Samsung also has a handy keyboard stand to go with the tablet, though bear in mind that this is sold separately.
The Tab S3 is the most balanced alternative to the iPad 9.7 and is a great option for keeping kids busy. Even if your young ones are heavy users, churning through the substantial battery – and let's be honest, low battery devices are a key cause of stress in today's world! – you need not to worry, as the S3 comes equipped with fast-charging.
By the way, the Samsung Galaxy Tab S4 is also available, but factoring in price and capability, the S3 remains our third choice.
4. Fire 7
Amazon's super cheap Android tablet that now comes with Alexa – from £49.99 at Amazon UK and $49.99 on Amazon US
OS:

Customized Android 5.1 (Lollipop)

Screen size:

7-inch

Resolution:

600 x 1024 pixels

CPU:

Quad-core 1.3 GHz Cortex-A7

RAM:

1GB

Storage:

8 GB

microSD slot:

Yes, up to 256 GB

Battery:

Non-removable Li-Ion 2980 mAh battery

Rear camera:

2MP

Front camera:

VGA



This tablet is not likely to impress: it is slow, the screen is poor, and the plastic body feels cheap. No surprises there, then – as that's exactly what this tablet is: cheap. Very, very cheap. But at this price level, it's hard to kick up to much of a fuss about the quality.
And that's what makes this a great tablet – especially if it is exclusively for the kids, as you won't worry too much if it ends up with orange juice inside it or a crayon shoved in the aux input.
And, in fact, if you are willing to double up to 100 big ones (in either £ or $), Amazon also offers a "Kids Edition" decked out with a protective case and a 2-year, "worry-free" guarantee. If your kids have a tendency to break things, this could be the perfect choice.
5. Huawei MediaPad M5 8.4
A fantastic Android alternative to the iPad Mini – from £299.99 at Amazon UK and $319.99 on Amazon US
Weight:

316g

Dimensions:

212.6 x 124.8 x 7.3 mm

OS:

Android Oreo

Screen size:

8.4-inch

Resolution:

1600 x 2560

CPU:

HiSilicon Kirin 960

RAM:

4GB

Storage:

32GB/64GB/128GB

microSD slot:

Yes

Battery:

5,100mAh

Rear camera:

13MP

Front camera:

8MP



Are you the type that just doesn't like Apple software? If so, this is the best alternative on the market in the mini tablet category and is in our opinion a superb Android option. And, if you like to be able to control your devices with just one hand, this Huawei MediaPad is perfect.
The cute size is perfect for when you are on the move – take it on car journeys or whip it out in times of need at restaurants (let's be honest – we all do it!).
Did you enjoy these tips? Well, we have some good news!
The magikbee team has decided to share some of the knowledge learned over the past three years of working on and designing technologies and gadgets. We hope to help you, the kids, mum, dad, aunts & uncles, grandparents and the rest of the family make the best tech choices, as well as offering fun ideas for all the family.
So keep an eye out for our next post!